Recreation for Wellbeing: Elevating Our Impact
Includes a Live Web Event on 02/15/2024 at 11:00 AM (PST)
Register

Non-member - $270
Member - $135
Institutional Member - $270
Premier Member - $108
Course Description
Wellbeing is all the buzz in higher education right now and it seems everyone is striving to be part of it. But what does wellbeing actually mean? How does it show up in the work of campus recreation? How does recreation's work impact campus wellbeing? Whether you're a director or a coordinator, whether you've been in the field for decades or are just starting your recreation career, whether your department has long been a part of campus wellbeing efforts or you're just starting out, there is so much to learn in this dynamic and ever-evolving area.
Recreation for Wellbeing guides participants through understanding the foundations of wellbeing, why wellbeing is critical to and inherent in all areas of campus recreation, how to understand the landscape of wellbeing on your campus, and how to advocate for wellbeing on and beyond your campus.
As a result of participating in the Recreation for Wellbeing course, participants will be able to advocate recreation's impact on wellbeing for the campus community, and they will leave the course with an action plan in mind so they can immediately put their learnings into practice and further foster wellbeing within their department and campus. Join for 8 weeks of study, dialogue, critical examination, and growth; we're always stronger when we move forward together.
Course Learning Outcomes
1. Articulate the concept of wellbeing and understand its distinction from wellness

2. Apply the principles of wellbeing to one's daily role in the campus community
3. Advocate recreation's impact on wellbeing for the campus community
4. Formulate an action plan for progress on one's campus.
Course Format
This course is eight weeks long, running from February through March 2024. It is anchored by four live, 90-minute learning modules. In between these modules will be opportunities for asynchronous learning and engagement, as well as interactive dialogue with peers. As a general rule, outside of the live course modules, you can expect to spend approximately 1 hour per week on this course.

Assignments and knowledge checks are included throughout the course, culminating in a final project that allows participants to integrate their learning directly into their day-to-day job and departments' needs.
Attendees will be provided tools and resources to help them document their learning journey and capture everything in one easy to access place.
Participants will have an opportunity to gather in person at the NIRSA 2024 Annual Conference to build off conversations started in the course, continue to network, and celebrate their accomplishments. This in person celebration is optional and not mandatory for course participation.
Course Modules
Module 1: Foundations of Wellbeing
By completing this module, learners will be able to: 
Module 2: Why is Wellbeing in Recreation Important?
By completing this module, learners will be able to: 
Articulate how recreation contributes to wellbeing

Explain at least one way that wellbeing is supported through their work

Understand how to stay current on emerging research
Module 3: Putting Wellbeing into Practice on Your Campus
By completing this module, learners will be able to: 
Identify

resources & Assessments available to inform wellbeing efforts

Identify

processes to

initiating

a systemic change in perspective toward wellbeing

Define phases of campus readiness toward a culture of wellbeing
Module 4: Advocating for Wellbeing: On YOUR Campus & Beyond
By completing this module, learners will be able to: 
Identify

ways for sharing the impact on wellbeing

Create an action plan for

initiating

progress

Utilize wellbeing resources to inform future work
Module Live Session Dates & Times
The four 90-minute live sessions will be held every other Thursday from 2:00pm Eastern/11:00am Pacific to 3:30pm Eastern/12:30pm Pacific. They are scheduled for the following dates:
Module 1: February 15
Module 2: February 29
Module 3: March 14
Module 4: March 28
Continuing Education Credits
Participants who complete the course will be eligible for Continuing Education (CE) credits in either the Core Student Affairs Educator Certification (CSAEd™) or Certified Student Affairs Educator-Campus Recreation (CSAEd-CR™).
NIRSA has been approved by the Higher Education Consortium for Student Affairs Certification to provide CE credit for Certified Student Affairs Educators (CSAEd™). Programs that qualify for CE credit in this program are clearly identified. NIRSA is solely responsible for all aspects of this program.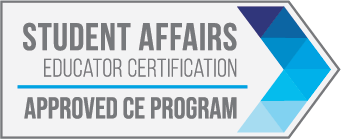 NIRSA Core Competencies

Philosophy & Theory; Programming

Registration Options
Course participants may register as an individual, or up to five individuals affiliated with the same institution may register via the Institutional Bundle option. The Institutional Bundle is available for Institutional Members only; the participants assigned to one of the five bundle slots are not required to hold their own individual NIRSA membership.
Course Requirements & Expectations
All participants must have access to a computer with high-speed Internet to participate in the live modules and other course activities. We strongly recommend having a webcam for live online participation as well as engagement with your learning cohort. By enrolling and participating in this course, you acknowledge that you have read and agree to adhere to NIRSA's Online Program Policies.
Key:

Complete

Next
Failed

Available

Locked
Module 1: Foundations of Wellbeing Live Session
02/15/2024 at 11:00 AM (PST) | 90 minutes
02/15/2024 at 11:00 AM (PST) | 90 minutes